Back in 1859 the United States and Great Britain nearly went to war over a pig.
The result after 12 years of tense negotiation was a victorious America laying permanent claim to one of the most beautiful and prized locations in all the world.
Check it out…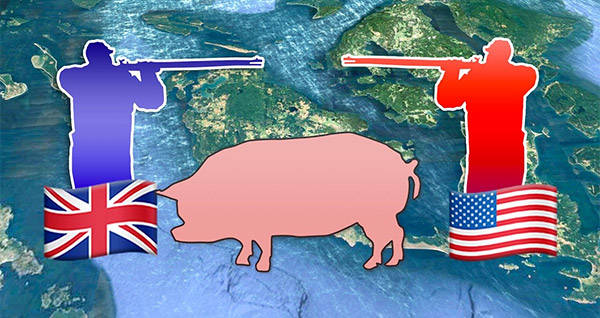 Readers of the San Juan Islands Mystery series might recall mention of the Pig War and the windswept area at the southern portion of San Juan Island knowns as Cattle Point where the American military was camped out during the 12-year standoff. This is the same location where the character of Roland Soros hoped to construct a massive casino and entertainment complex funded in part by an investment from a nefarious organized crime source. That project never came to fruition but Roland's dealings with the Russians would soon come back to haunt him and others on the islands, an ongoing conflict which makes up much of the plot for the soon-to-be-released, Turn Point Massacre.
Here is a short video of that Cattle Point area. Note the bald eagle perched at the top of the lighthouse.
Get the entire SJI Mystery series for one low price HERE
PAPERBACK available HERE
"A fantastic mystery series with a young female protagonist in Adele Plank who is now so much like a real-life friend to me. There is some heart-pounding action, great dialogue, and lots of entertaining interaction between all of the fascinating secondary characters. And of course, there is also the magical San Juan Islands. Each new book is like a reunion with Adele, Tilda, Roland, Lucas, etc. Beautifully told and very hard to put down once you start. Please-please-please keep them coming!" —Lydia Perez
---