Apologies. I'm a few days late. Jack Nicholson turned 80. 
Some place Robert De Niro or Al Pacino as America's greatest actor of the last fifty years. Not so. For me, it's Jack -and it's not even close. With the devilish charm and immense talent to overcome a supporting actor's face, Jack Nicholson has proven himself capable of an acting range that far surpasses that of his contemporaries.
Here are some of the scenes that make that opinion undeniable fact: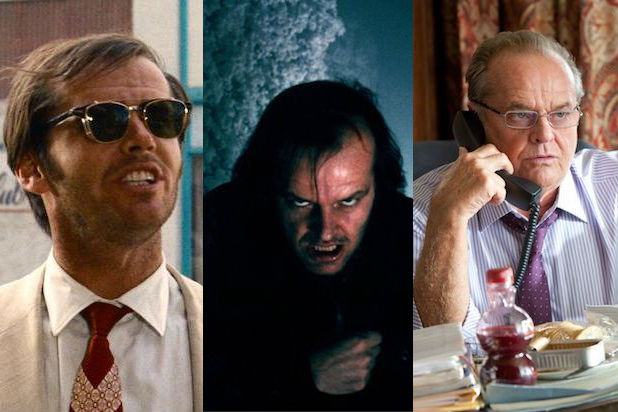 First is the "Indians" scene from the counter-culture opus,  Easy Rider – a film that is itself overrated, while at the same time, Nicholson's performance is underrated. Two things stand out from the movie. The first is the undeniable charm of pre-corporate America captured so well in the ever-moving two-wheeled scenery. The second is Jack playing the secondary role of alcoholic ACLU lawyer, George Hanson. Nicholson takes his limited role and chews up every scene he's in. He plays a mess of a man, but you can't help but be charmed by him – much like the real life Nicholson:
Next is One Flew Over the Cuckoo's Nest – a film that unlike Easy Rider, and despite its many awards, still manages to be underrated. Nicholson's take on the character of Randle McMurphy is an understated yet seething depiction that remains a model of acting craft. You cannot fully capture the nuances of this film and Nicholson's performance in a single viewing. From tone of voice, to posture, to how his eyes dart from one character to the next, it is among the greatest achievements by any actor in American film history.
A beautifully painful story made more so by Nicholson's angry exuberance:
Ah, The Departed. Jack is getting long in the tooth here, but reminds everyone he still has the acting chops to bite – HARD. Playing the character of Irish mob boss Frank Costello (based loosely on real Irish mob boss Whitey Bulger) Nicholson is given plenty of leash by director Martin Scorsese and Jack makes great use of it. It is perhaps his most believably menacing role ever. The scenes crackle from his presence in them and by the film's predictably bloody conclusion, you find yourself inexplicably rooting, at least just a little,  for a horribly damaged and deranged Frank Costello.
A South Boston classic that captures the tough, gritty era of that time, The Departed remains a cinematic masterpiece without the use of CGI, or other special effects filler. It's just good film-making made great by a collective cast at the top of their games and among them, Jack Nicholson reigns supreme:
(Warning: Language)
There are so many more of course. The Shining, Chinatown, A Few Good Men, and on and on.
A remarkable scope of work. A terribly flawed human being who channeled those often conflicted shortcomings into art that will hold up long after he is gone. We should all be so lucky.
Happy Birthday Jack.
-DWU
—————————–
D.W. Ulsterman is a bestselling, award-winning author and socio-political commentator. 
All of his novels are available for purchase in e-book and paperback:  HERE
You can also follow him on Facebook: HERE
And sign up for his free newsletter: HERE

dwulsterman.com
—————————-